Huge queues as workers try to get home
Save
Auckland city is "complete bedlam" according to one commuter, as students and workers leave early to escape the worst of Cyclone Cook.
Some people were even tapping on the windows of passing cars begging for lifts home when queues were at their height earlier today.
University finishing early combined with workers heading home before the worst of the weather hit created a sudden rush for buses, which was now being dealt with, Auckland Transport said.
Steve Hart said he waited for 45 minutes as seven or eight packed buses to the North Shore went by Victoria Park "one after the other after the other" without stopping.
"It's the first stop after the Britomart stop. People are queuing to get on at Britomart and filling every single seat up," he said.
About 100 people were waiting for buses and none were stopping at one point.
Hart was now home in Albany.
"Bus passengers were running across the road, tapping on the windows of passing cars and saying 'please can I get a lift'," he said.
"Traffic leaving the city for the North Shore is wall to wall - it's bedlam out there."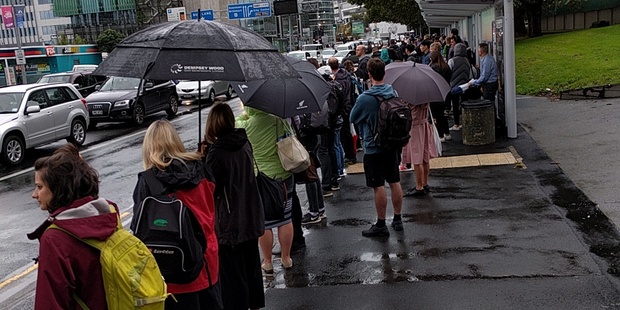 Herald reader Mauro Murace also said buses coming past Victoria Park were full and not stopping and he had seen people asking for rides.
Continued below.