High-tech system at cancer treatment centre
Save
Tuesday, 04 October 2016
1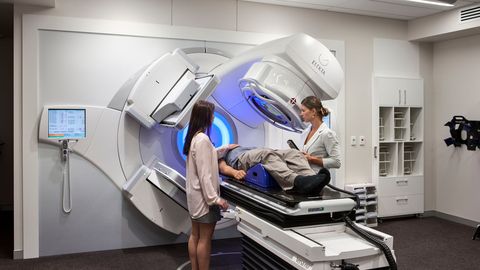 For two years the Kathleen Kilgour Centre has been delivering radiotherapy treatment to Bay of Plenty cancer patients and has already treated more than 1500 people.
It is also one of only two centres in New Zealand offering the Active Breathing Co-ordinator (ABC) system for breast cancer patients.
The Kathleen Kilgour Centre (KKC) was established in partnership with the Bay of Plenty DHB and offers radiation oncology treatment to patients who previously had to travel to Waikato Hospital in Hamilton for treatment.
''Having a facility in the Bay of Plenty allows many patients to receive treatment without having to take full days off work or stay in Hamilton away from the comforts of family and home," said the centre's clinical director Dr Leanne Tyrie.
Treatments include a range of leading edge technologies to cover all adult malignant tumours.
Among the techniques is the Elekta Active Breathing Co-ordinator, used to manage the movement associated with breathing during treatment. The technique is designed to minimise damage to surrounding tissue during radiotherapy treatment.
''The Radiation Oncology Breast Cancer team at the KKC has always recognised the need to minimise radiation doses to normal tissues in order to reduce the possibility of long term side effects. We have used the ABC system where at all possible on the majority of our left-sided breast cancer patients," said radiation oncologist Dr Glenys Round, who specialises in the treatment of breast cancer.
"It is comfortable, intuitive and provides consistent respiratory motion feedback to all those using it."
Continued below.