Decluttering can make you a tidy profit
Save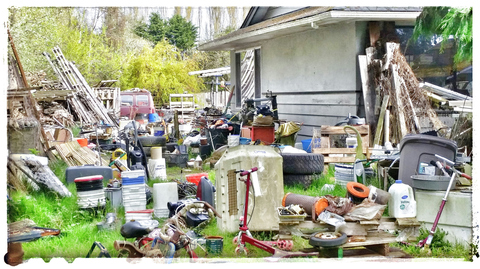 Buried deep among that pile of unwanted festive gifts, overflowing storage boxes and never-used 'essentials' is an opportunity to make money. The Mail on Sunday shows you how to make a profit from decluttering the home.
The holiday season may be over but this is no time to feel sorry for yourself as a result of overindulgence. Instead you should seize the moment and embark on a major decluttering exercise, exploring ways to profit from junk.
Sorting through piles of unwanted Christmas gifts offers an ideal starting point for digging down a bit further. Why not delve into the back of wardrobes, cupboard spaces, the attic and garage to pull out items that have lain abandoned for years?
The project will not only give you valuable extra space to provide a more organised and spacious environment but experts believe it can also make you happier and more in control of your life. On top of this are the financial rewards, with the average home hoarding $2,100 of junk never used.
Here, we provide a six-step guide on how to tackle this daunting task.
1. GET IN THE RIGHT MINDSET
Often the inspiration to tidy up comes in a flash, followed by a mad dash around a few rooms where objects close to hand are rounded up and stuffed into bin liners and then carted off to the local tip.
But a proper declutter is an exercise that should be done with an objective eye, often with help from a close friend or family member so that all the junk you do not actually need is cleared out.
It is also important to take a few days to tackle the task rather than just a couple of hours. Delving deep into the back of wardrobes and garage spaces to get rid of rubbish often requires practical help from others.
A whirlwind approach is not a long-term solution to clutter. Cherry Rudge, a professional decluttering and organising consultant who runs Rainbow Red in Walton-on-Thames, Surrey, says: "Simply cleaning out a home looking for things to sell or just throw into a skip is the wrong approach.
"Instead, you should try to understand the nature of hoarding and the reasons why you have sentimental attachments.
"If decluttering is done properly you will bring more order to your life and improve your self-confidence. It is all about having a strong sense of wellbeing and to achieve this you should reflect on the task."
She adds: "Seek guidance if you struggle to let go of things even if you know there is too much clutter in your house. Do not allow yourself to feel pressured but accept it is a task that must be tackled.
"Having someone there to support you can make all the difference. As long as they adopt a non-judgmental listening approach it should help."
Rudge, a member of the 180-member Association of Professional Declutterers & Organisers, charges £35 an hour for home visits. Nothing is cleared out until a customer is mentally prepared to embark on such a project.
2. FIND A PLACE TO START
Once the decision has been made to declutter, the next move is to work out where to begin.
Kate Ibbotson runs a decluttering consultation business, A Tidy Mind, from Menston in West Yorkshire.
Although she believes it is important to keep on top of mess in the house, she says a clean-up does not mean you must live in "a Zen garden".
Kate says: "It is not necessarily that items on show must go. Often it is the hidden ones behind the scenes that never seem to get used that need to be sold off, given away or thrown out.
"You have to mean business which requires looking into the back of wardrobes, under beds and storage spaces."
She says it is a good idea to tackle one room at a time. A spare bedroom can often be a natural place to start.
Continued below.