NZ shares slip as US volatility rises
Save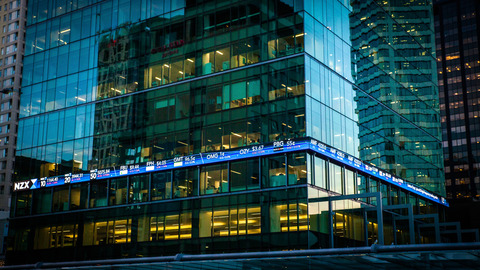 New Zealand stocks declined as heightened volatility in US equity markets increases the influence of overseas investors on the local bourse. A2 Milk Co, a favourite stock among foreign investors, fell.
The S&P/NZX 50 index decreased 30.45 points, or 0.4 per cent, to 7188.06. Within the index, 23 stocks fell, 14 rose, and 13 were unchanged. Turnover was $133 million.
New Zealand's stock market was one of the few to decline across Asia today, having outperformed the region yesterday. Wall Street was mixed, with the Dow Jones Industrial Average falling on weaker earnings from IBM, although other results such as Morgan Stanley beat expectations and saw the broader Standard & Poor's 500 index edge higher.
"We're really taking our leads from offshore and I wouldn't underestimate the important of offshore ETS (exchange traded funds) type money in New Zealand markets, driving us in a day-to-day sense," said Matthew Goodson, managing director at Salt Funds Management in Auckland. "US markets have been more volatile in the last week or two."
Goodson said the March quarterly earnings season in the US has been mixed so far, and investors are still unsure about whether the new US administration will be able to pass its legislation programme of tax reform and infrastructure projects.
A2 led the market lower, falling 2.5 per cent to $3.11. The milk marketing firm has been heavily traded by international investors in recent months with A2's distribution channels in China seen as robust and offering good exposure to rising consumer demand for infant formula in the world's second-largest economy.
Real estate investors Property for Industry fell 2.4 per cent to $1.62 and Precinct Properties New Zealand was down 2 per cent to $1.20. Local data today showed a faster pace of inflation than expected, stoking speculation the Reserve Bank may hike interest rates earlier than anticipated and reducing the attraction of property stocks that typically offer investors a high dividend yield.
Air New Zealand fell 2.2 per cent to $2.44 and exporter Fisher & Paykel Healthcare was down 1.2 per cent to $9.60 as the kiwi dollar rose on the prospect of higher interest rates, making international flights to New Zealand more expensive and reducing the value of export receipts from the US. Auckland International Airport decreased 1.6 per cent to $6.69.
Continued below.