F&P's new boss, just like the old boss
Save
For Fisher & Paykel Healthcare chief executive Lewis Gradon, the old adage is true - "if it ain't broke, don't fix it".
Gradon stepped into former boss Mike Daniell's shoes in April last year, and as far as everyday business is concerned, not a lot changed.
The 56-year-old occupies the same seat Daniell did in the corner of the East Tamaki open-plan office, surrounded by 50 or so staff. He operates by the same values, and - like his predecessor - is keen to avoid the spotlight.
In fact, if Gradon had his way, his name wouldn't be in the news at all.
"Yes, there is always a CEO, but the success of this company has very little to do with me," Gradon says.
"Part of the whole teamwork environment here is you don't really have the rockstars and you don't say 'me' or 'I' - the whole personal profile thing just kind of doesn't fit with the company."
He may clam up when asked about his personal life, but Gradon's sense of humour is obvious. He is quick to laugh, often at himself, and easily jumps from cracking a joke to an in-depth discussion about the mechanics behind a new piece of technology.
His day-to-day life hasn't changed much either. Formerly the senior vice-president of products and technology, Gradon has been on the executive management team for 20 years, and with the company for almost as long as Daniell - 32 years compared with Daniell's 37.
In 1983, having finished a Bachelor of Science degree in physics from the University of Auckland, Gradon joined the company as a product engineer.
Since then he has held various engineering roles and oversaw development of the company's healthcare range.
"People ask me all the time, 'what's it like, what's been the challenge and how was it moving into the CEO role', and I don't know how to answer any of them, because for me it was a really small transition," Gradon says.
"Not a heck of a lot that I noticed at all in my day-to-day life and part of that is because of the way we worked in the first place. Mike leaving was more like, one person in the team left as opposed to the boss leaving."
He may prefer to pass on the personal questions, but the head of one of New Zealand's largest listed companies is happy to chat about the success of the business and the work it is doing.
From its original prototype humidifier - made from an Agee preserving jar - Fisher & Paykel Healthcare has gone on to be a leader in the business of respiratory technology, as well as a consistent outperformer on the NZX, with a market capitalisation of $5.5 billion.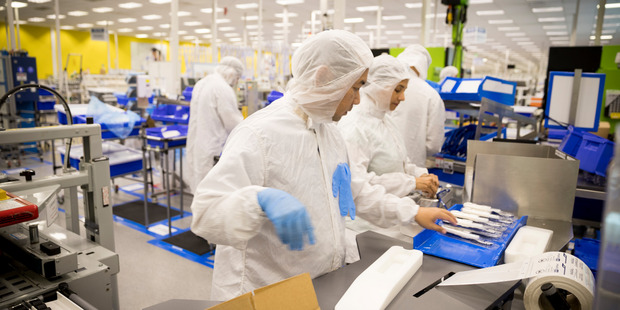 Since splitting from appliance company Fisher & Paykel in 2001, the business has focused on its core range of products in the respiratory sector. Its two main areas are care in hospitals, and at home.
Under Daniell's leadership, the business diversified from its traditional tube ventilation market into the obstructive sleep apnoea market, then into face mask ventilation, oxygen therapy and surgery.
The company now sells more than $800 million worth of products a year and is on track to achieve more than $1b in operating revenue in the next two years. Daniell laid out the roadmap and Gradon says he has no plans to take a different route.
"We're on a track and we've been on that for 20 or 30 years so it's just continuous improvement from here," he says.
Continued below.