Warne reveals 'big balls' problem
Save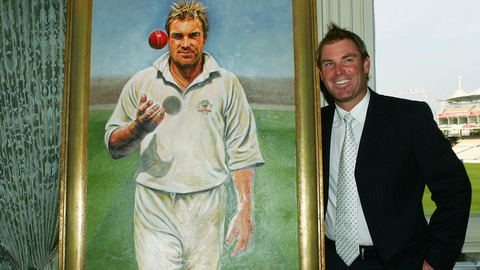 Shane Warne's balls are famous.
He had a leg-break, a wrong-un, a top-spinner, a slider and a flipper. And before every Ashes series he'd pretend he had a new "zooter" or whatever completely fabricated name would scare the English the most.
But those aren't the only balls that have caused the Poms grief. Some different spheres have posed problems of their own.
No, we're not talking about the sting on the 2001 Ashes tour that caught Warne out in his Playboy jocks partying with two topless models. Nor has Elizabeth Hurley regaled the world with stories about the pair's sex life. Thankfully.
But we're in that general vicinity. It turns out certain aspects of Warnie's nether-regions - on display at Lord's - were once too big and had to be "touched up".
In a painting, that is.
The 48-year-old was only the third Australian chosen to have their portrait hung up at the home of cricket. But Warne has revealed a juicy titbit about his work of art, completed in 2005, that is sure to make his kids squirm.
In a video filmed with Guardian sports journalist Michael Butler in the nets, Warne was on the receiving end of some attempted sledging from the bespectacled reporter, who was trying valiantly to sort the leggies from the googlies.
And so Warne's secret was revealed.
Butler: "Shane, your portrait in the long room looks nothing like you."
Warne: "I know, it's pretty good though isn't it?"
Butler: "I preferred your mural."
Continued below.