Watch NZH Local Focus: Huntly expressway that 'no-one can see'
Save
The entire length of the Huntly section of the Waikato expressway is being built on green fields of untouched land - a road that is appearing out of nothing.
The 320 million dollar construction project bypasses Huntly to the east - snaking past Lake Kimihia and the Taupiri mountain range - and rejoining the highway at Gordonton Road Interchange.
More than 2.2 million cubic metres of material has been shifted by teams building the Huntly section but wet weather conditions mean the earthworks is about to go on hold for winter.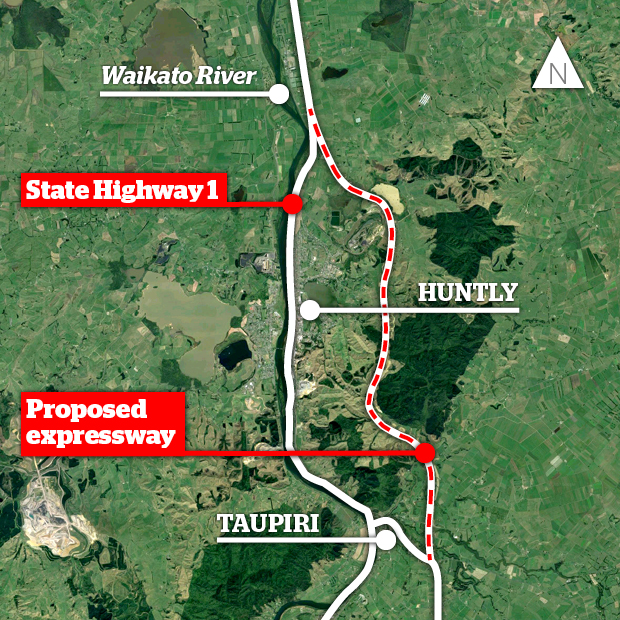 Project Director for the Huntly section of the expressway, Tony Dickens, says the wet weather dampens progress of the site and before the end of April they will move another "couple hundred thousand metres" of soil.
"The winter in the Waikato or in New Zealand, in particular, is just too wet and when you move earthworks you have to be able to compact it solid and you can't compact it solid when it's wet. You have to dry it out."
During the rainy season - workers will concentrate on preparing parts of the route which have already been excavated.
Mr Dickens says a majority of the project is in a valley where "no-one can see".
"The traveling public at the moment only see us building the Ohinewai end of the project. [The Huntly section] is 15 km long and the majority of it is through the mountains of the Taupiri range and no-one can see us building it."
The route is scheduled to be finished by December 2019.
Continued below.