$10k bill after sausage dog in car crash
Save
Beloved sausage dog Frank suffered a fractured spine after the car he was in was rear-ended on the Auckland motorway. The much-loved pooch's owners are now hoping kind-hearted Kiwis will help Frank in his road to recovery.
Melanie Joy, 34, was travelling from Ngaruawahia to visit family in Auckland with Frank, who is never far from his parents' side, in his crate in the back seat, when the traffic came to a sudden halt on the southern motorway.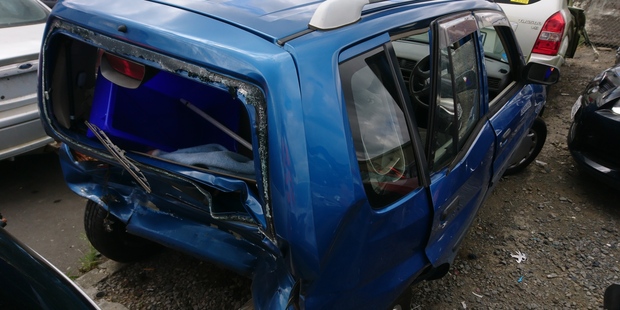 Although she stopped with plenty of room, the driver behind her didn't and ploughed into the back of Joy's car at speed, sending her spinning.
"She spun about five or six times. It was phenomenal she didn't actually hit anyone else around her," said Joy's partner Ewen McBeth.
"If there was someone sitting in the back seat they probably would've been severely injured.
"The car was a complete right off."
Joy was lucky to walk away uninjured but the couple's floppy-eared friend was not so fortunate.
"The force of the impact fractured his L7 vertebrae. He was in a whole lot of pain and going mental," said McBeth.
"If he hadn't been in the crate he would've been a goner for sure."
After X-rays and a CT scan the couple were told if vets didn't operate, two-year-old Frank would live a hard life.
Continued below.