'I will probably have tears in my eyes when I leave here'
Save
The woman singled out by Labour leader Andrew Little as the last resident in the abandoned and derelict Jebson Place housing estate in Hamilton East is moving out this week.
Shirley Butler and her cat Rascal will leave her three-bedroom home of 51 years on Thursday and the house her three children grew up in will soon be a pile of rubble like those around it.
Butler, 76, is the longest and last resident in Jebson Place and in the past three years has watched her neighbours slowly move out and their properties boarded up.
They will give way to a Housing New Zealand redevelopment that will see 71 new properties built on the site.
The grandmother of 10 has been surrounded by houses stripped bare and barricaded off with wire construction fences.
There is the constant hum of a digger, slowly demolishing the trashed houses.
But on Monday Butler signed a contract for her new two-bedroom home about 2.4km away in Newall St, and will spend her first night in it on Thursday.
"They [her children] say I will probably have tears in my eyes when I leave here."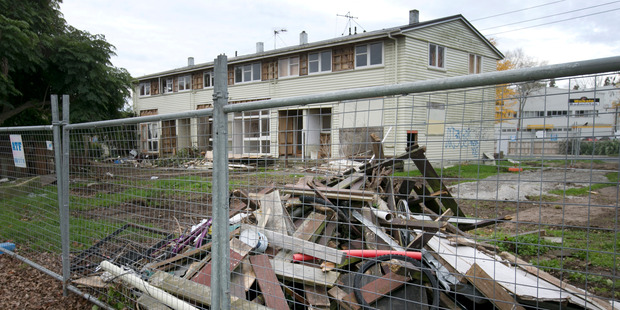 The move is bittersweet for Butler who gave birth to her middle child in the house and also watched her husband die there about 20 years ago.
She clearly remembers the first day she set foot in the door as she had just given birth to her first child. Instead of taking her back to the small flat they lived in on Ulster St, her husband Don surprised her with the new place on Jebson Place.
The Butlers were the third tenants to live in the property - and will also be the last.
"All the other places have had people coming in and out and there have been some cheeky little monkeys."
Continued below.