Opera House doors a step closer to opening
Save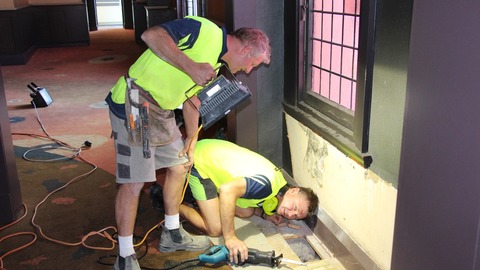 Reopening the Hawke's Bay Opera House is a step closer, with work soon to be under way on earthquake strengthening the historic building.
The Hastings CBD building was closed in 2014 due to possible earthquake risk, but public consultation last year indicated the community wanted earthquake strengthening to take place.
Remedial strengthening could begin as early as August by appointed contractors Gemco Construction - subject to their plans being approved by Hastings District Council.
Gemco project manager Eddie Holmes said the exploratory work would take about three months as they check "the grand old lady's" foundations before any construction work began.
"We are giving the Opera House a thorough check to better understand the existing building materials behind the walls, ceilings and floors in preparation for council consent to commence strengthening work.
"It's a bit like a jigsaw puzzle as we will be taking it all apart, then strengthening with structural steel and concrete, before putting it all back together again."
Any items removed during construction would be securely stored.
The company has been involved in other high-profile earthquake strengthening projects around Hawke's Bay including the MTG, Napier Conference Centre and Woodford House.
Up to 50 Gemco workers and subcontractors will be on site at the height of the project and once completed the Opera House will sit at 70-75 per cent of the earthquake code.
"Most of the work will be done behind the scenes and will never be seen by patrons but there will be some minor cosmetic changes too," Mr Holmes said.
As part of the construction programme, temporary strengthening will be added to the exterior of the neighbouring Municipal Building and the safety fence will be reconfigured, to provide access to the Opera House.
Gemco will be working closely with the council's appointed project manager, Herman Wismeyer, leading building conservation architects Dave Pearson Architects, and structural engineers Holmes Consulting.
Historic heritage agency Heritage New Zealand is also actively involved due to the 100-plus year old building's Category 1 heritage status.
Hastings District councillor Adrienne Pierce said these were "exciting next steps along the road to having the beautiful building open again. It is going to be wonderful to see action on site".
The chair of the council subcommittee overseeing the project said it had taken a long time to get to this point, but it had been "extremely important that the planning for such a vital piece of our heritage was done with extreme care".
"In the end it will be worth it."
Share this article