Poppy Appeal to help NZ's veterans
Save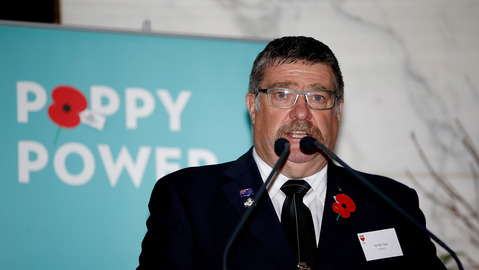 The RSA's annual Poppy Appeal to raise vital funds to support New Zealand's 41,000 veterans and their families was launched today, backed by ambassadors that include former All Black Buck Shelford, current coach Steve Hansen, and filmmaker Sir Peter Jackson.
Recognising and responding to the needs of veterans, especially those members of the military who have served in recent deployments around the world, was a key theme of the national launch of the 2017 Poppy Appeal held in Auckland on Wednesday.
RSA national president BJ Clark said the organisation was responding to a growing need for its support services.
It includes providing a wide range of help to the veterans and their families coping with everything from health impacts, the effects of Post-Traumatic Stress Illness (PTSI) and other conditions brought on by service, help with transitioning to civilian life or financial aid in times of hardship.
"New Zealand now has 41,000 veterans - the most at any time since the end of the Second World War," Clark said.
"Many Kiwis would be surprised to learn that nearly three quarters of those veterans served in overseas deployments since the Vietnam War.
"This younger generation of veterans have to deal with many of the same life challenges of those earlier generations of service men and women but perhaps without the understanding of the public that they too had experienced some dangerous, stressful and personally distressing situations in their service for New Zealand."
This year there is a variety of ways for New Zealanders to make a donation throughout the week of the Poppy Appeal - its 95th running, making it New Zealand's oldest continuously run appeal.
The appeal will again culminate in Poppy Day which this year will fall on Friday, April 21, four days before Anzac Day.
The RSA national leadership was joined at the launch by dignitaries, RSA member clubs and also the Poppy Ambassadors, who will help spread the message of the appeal.
This year's ambassadors are: former soldier Tina Grant, former All Blacks and Maori All Blacks captain Buck Shelford, Naval reservist and recording artist Rebecca Nelson, actor and comedian Oscar Kightley, All Blacks coach Steven Hansen and film-maker Sir Peter Jackson.
Continued below.