Woman refused entry to pub over tattoos
Save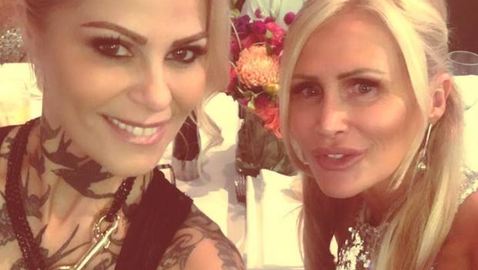 A Sydney makeup artist says she was refused entry at a popular waterside venue owned by hospitality mogul Justin Hemmes, because of her neck and hand tattoos.
Gordana Poljak had planned to attend a friend's birthday drinks at Coogee Pavilion in Sydney's eastern suburbs on Saturday night, but was told by security and the venue's manager that she was not allowed inside because of her tattoos.
The striking single mum is the former wife of media personality Mike Willesee with whom she has a teenage son, Rok. She is also the former fiance of chef Jason Roberts.
"They stopped me and said 'I'm sorry you can't come in' and I said 'Why? I'm here often, I was here a couple weeks ago'. They said 'Your tattoos'," Ms Poljak told news.com.au.
"I said 'I always get in with my tattoos. I'm upstairs [at the bar] a lot'. They said 'You're going to have to take that up with the manager'," Ms Poljak said.
"The manager didn't even say 'Look, I'm really sorry, that's the situation, the rules have just come out, you might have been allowed a couple weeks ago'. There was no niceness about it, it was like 'Nup sorry'. They treated me like crap."
Ms Poljak, who has worked with big name clients including Cate Blanchett, Russell Crowe and Pierce Brosnan, is known for her love of intricate ink.
The makeup artist and cosmetician lives in Coogee and is confused by what she says is the venue's inconsistent admissions policy. After initially being told she wasn't allowed inside at all, management later said she was only permitted in the downstairs dining area, which is popular with families and young children.
Continued below.