Top weekend family boat & trailer destinations: Port Jackson, Coromandel Peninsula
Save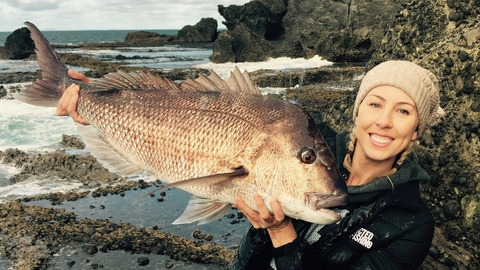 Weekend asked Nicky Sinden, host of TV show ADOS Addicted to Fishing to name her favourite weekend destinations with boat and trailer that offered something for everyone in the family. The location needed a boat ramp for easy access to that awesome fishing spot, along with a rich mix of great attractions nearby that combined together made for a great weekend away.
Port Jackson beach
Located right near the tip of Coromandel Peninsula, Port Jackson is quite the drive, but totally worth the effort. The long unsealed Port Jackson Road from Colville always makes me appreciate the responsive handling of my Ford Everest, especially while towing. I love the scenic coastal route, fringed with pohutukawa. The fishing is amazing, especially around the famous Port Jackson Reef, with plenty of kingfish to be had. Check out the episode we filmed which featured Port Jackson: 'Ados Addicted to Fishing Season 1, Episode 12 on YouTube.
There are a couple of places off SH25 where you can launch your boat, but the Port Jackson DOC Campsite is a great option. It offers good access to the tidal beach, parking, and handy facilities to clean fish and I like to wash my 750 Game King Extreme Boat.
Coromandel Pies
While you're passing through Coromandel Township look out for the little red shed on Wharf Rd and grab a pie from Coro Pies. Kiwi breakfast (cheese, egg, caramelized onion and mince) is always excellent at any time of day.
Smoking permitted!
Of course you can't beat fresh caught fish but it's good to change things up on the way home. Any seafood lover will bow down to the skills of the team at the The Coromandel Smoking Co in Coromandel Township. Your taste buds will thank you for the glorious flavour sensation of fresh seafood smoked daily to order using natural Manuka. Try the smoked scallops and roe, and you won't regret it.
Loop the loop
Walkers or experienced mountain bikers can complete the loop connecting the two road ends at the top of the Peninsula via the Coromandel Walkway. The walking track is an easy level 7, over 10km with spectacular views. The 8km bike trail is steeper and definitely more challenging, so it's recommended for advanced riders.
Driving Creek Railway and Potteries
Driving Creek Railway is an all-ages favourite, built by one of Coromandel's great eccentrics. If you're travelling with kids, train spotters or ceramic enthusiasts, it's hard to go past. Panoramic views and sculptures reward the passengers on
New Zealand's only narrow gauge railway track. It does pay to book.
Continued below.