Eye to eye with a big ugly shark
Save
Monday, 29 February 2016
4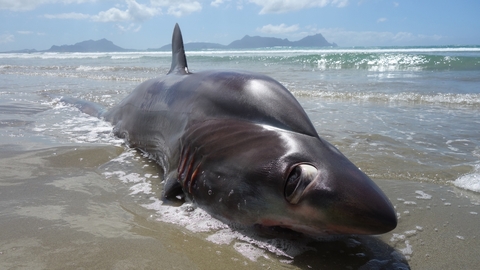 When Martin Stehlik came to Whangarei from the Czech Republic to stay with his uncle, he didn't expect to come face to face with an unusual creature from the deep.
But on Saturday Mr Stehlik was on Ruakaka Beach with his uncle George Plesky when he came across an unusual sight, a relatively rare, four-metre bigeye thresher shark.
Mr Plesky, who lives in Whangarei, said he and his nephew were amazed when they saw the shark, which was on the beach, about half a kilometre south of the Ruakaka lifeguard station, and at first wondered just what it was.
"It was just so strange and we'd never seen anything like it before, with its long tail and it's big, black eyes. It was very unusual. Martin thought it might be a shark that isn't seen here often. He's going to go away with some very good memories of his time here," Mr Plesky said.
Department of Conservation shark expert Clinton Duffy was excited to see photographs of the shark sent to him by the Northern Advocate, saying it was a bigeye thresher shark (Alopias superciliosus).
Continued below.