Gums to be felled at Kerikeri Basin
Save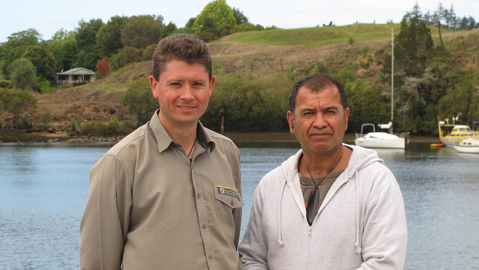 Some of the gum trees at Kerikeri Basin will be cut down this month as preparations continue for the mission station's 200th anniversary.
The trees to be felled are on a ridge on the historic kainga (village) site which connects the Stone Store area with the newly upgraded Kororipo Pa.
Department of Conservation historic ranger Andrew Blanshard said some of the trees along the track between the Pear Tree Restaurant and the pa would be cut down so the kainga could be seen from the Stone Store.
"The trees form a visual barrier. A lot of people don't even know the kainga is there," he said.
A stand of gums in the middle of the kainga would also be felled and the area re-grassed. Some trees in the stand were dangerous and coming to the end of their lives, he said.
The gums on the far side of the kainga, which screened properties on Pa Rd and Alderton Drive, would remain.
At the same time contractors would deal to the gorse which had sprung up over the past decade, and the stumps left behind last time trees were felled would be ground out to make it possible to get a mower in.
Continued below.

Mr Blanshard said the kainga was a large, open area but apart from a few people using the tracks to Pa Rd and Hone Heke Rd hardly anyone knew it was there. By opening it up DoC hoped to encourage its use and make the pa less isolated.
It was another step in the transformation of the Basin that began with the removal of the road bridge in 2008 and part of preparations for the 200th anniversary of Kerikeri Mission Station in 2019.
Mr Blanshard said Heritage New Zealand had done a good job of promoting and preserving the Stone Store and Kemp House, and now it was time for "rebalancing" so the Basin also told the stories of tangata whenua.
The only reason the Mission Station and Stone Store were built at the Basin was the protection offered by Hongi Hika and his pa directly across the water.
At its peak in the early 1800s about 2000 people lived in the kainga next to the pa, a huge population for the time.
The work has been ordered by the Department of Conservation and the Kororipo Heritage Park Management Group.
■ The track and parts of the reserve will be closed at times during the tree felling. Call DoC's Kerikeri office on (09) 407 0300 with any questions.
Share this article