Last part of cycle trail to open
Save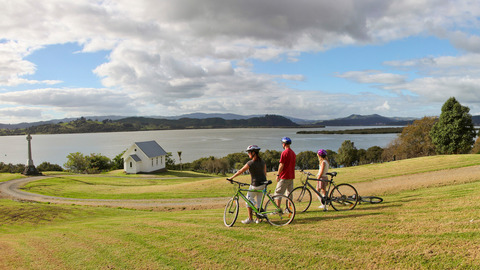 The last, and arguably the best, section of Northland's Twin Coast Cycle Trail will be officially opened on March 18.
The 84-kilometre trail, from Opua in the Bay of Islands to Horeke in South Hokianga, follows disused railway corridors for much of the route and is the only Northland trail in former Prime Minister John Key's network of 22 trails around the country.
Also called Pou Herenga Tai, the Northland bike trail is the only one to reach from coast to coast. It also ran into more delays and difficulties than the other trials and is by far the last of the original seven to be completed.
Despite its difficult birth the trail is generating excitement even before its official opening.
Author and cycling guru Jonathan Kennett said the Twin Coast Cycle Trail had the potential to rejuvenate small towns along the route even more dramatically than the Otago Rail Trail, and would attract more users because of its proximity to Auckland. Eli Orzessek, writing for NZ Herald Travel, included it in his list of the world's 10 best bike trips.
The final 28km of the trail is a grade 2-3 trail that starts in Okaihau, drops through farmland into the scenic Utakura Valley, then follows Horeke Rd and a 1.2km-long boardwalk, the longest on any of the cycle trails, through Hokianga Harbour mangroves to Horeke Tavern, said to be the oldest pub in the country. From there it's another 1km to the historic mission station at Mangungu.
People who want to take part in the March 18 official opening can choose between riding the full 28km or a more leisurely 9km loop.
Continued below.