Asbestos forces Taupo District Council move
Save
More than 120 staff at Taupo District Council are set to move from this building in July - because of concerns about asbestos in the structure.
The decision was made at an extraordinary Taupo District Council meeting on Tuesday.
Councillor Anna Park told the chamber she had seen first hand the damage asbestos can do and was not willing to vote in favour of a motion to delay the departure of staff from the building at 72 Lake Terrace.
"I as an elected member, as a community leader do not support leaving one of the largest teams of staff in a building that is not safe. I don't even want to be in the room, let alone leave the staff in the room and I really feel for finance team who sit down the front of the building - near that soil, near the panel which has been removed by a vandal."
Mrs Parks comments came after a motion call by councillor John Boddy for more air monitoring to be completed to determine the risk to staff - to see it there is any airborne asbestos which would be a risk for staff.
The most recent air monitoring report from the samples taken on 11 May show there was no asbestos present in the air
"To have air monitoring done down in the foyer and in those downstairs offices that showed no contamination of airborne asbestos to me proves that this is still a safe working environment."
However, Mr Boddy admits that asbestos is an emotive subject and understands other people are worried about their personal health and wellbeing.
Taupo District Council CEO Gareth Green says there is an immediate need for council staff to move out of the building for health and safety reasons because tests show there was asbestos in the soil which proves there has been asbestos in the air in the past.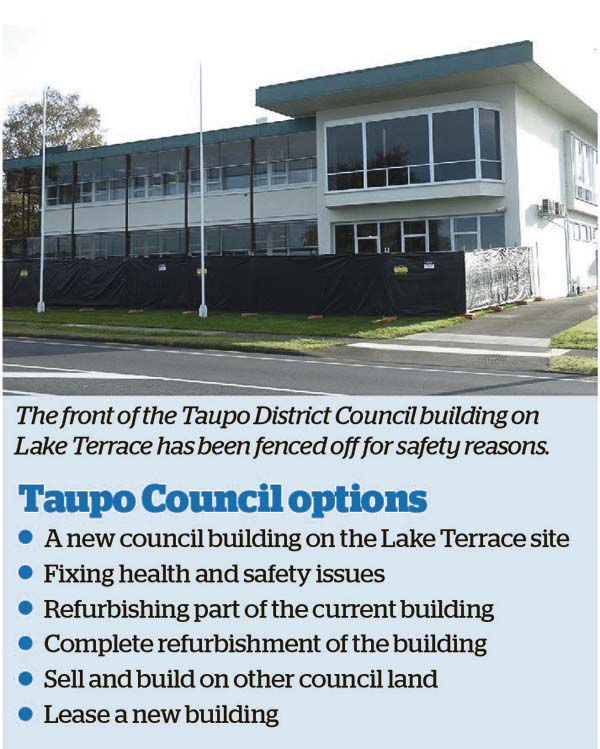 "The airborne testing only identifies the asbestos that's in the air at that point in time. Most of the time the asbestos won't actually be in the air. We knew that the issue wasn't actually about what was in the air, the issue was about what could be in the air if the buildings damaged or as the building deteriorates."
Continued below.