Luxury car driver says sorry
Save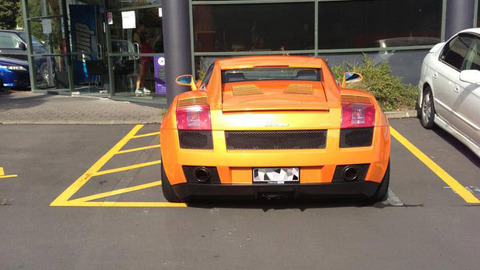 The owner of a Lamborghini Gallardo has apologised for parking in a mobility space after he was publicly shamed on the internet.
A photo of the car outside Club Fitness in Albany was published on the You've got my carpark, want my disability too? Facebook page with a caption saying the owner gave the excuse he "didn't want to get a scratch on his door".
The page has published photos and information about more than 100 drivers caught in carparks throughout the country - including two instances involving police cars and posts featuring courier vans.
Started in December by a fed-up Waikato wheelchair user, the page aims to raise awareness about the issue by encouraging its 8000 fans to name and shame those abusing the parks.
The Herald tracked down the Lamborghini's owner yesterday. The man said it was the first and only time he had parked in a mobility space, and wanted to apologise to people who truly needed the spaces.
"I sincerely apologise for parking on this occasion in a disabled park.
"While I was given permission at the time, I now realise how wrong this was and how offensive it is."
Continued below.