Rein takes the strain for wakeboarder
Save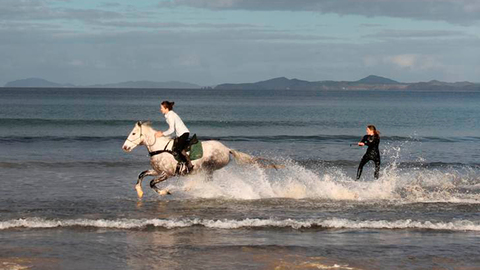 By Kristin Edge of the Northern Advocate
A love of horses and wakeboarding has seen a Northland equestrian duo combine raw horse power with the exhilarating watersport.
Good mates Chloe Phillips-Harris, a full time horse trainer in Kawakawa, and Nikita Osbourne, a vet and horse rider in Kerikeri, have trained a wild Kaimanawa horse to gallop through the surf with a wakeboarder skimming along behind.
The idea of using a horse came out of the friends' lack of a boat.
The two woman, aged 25, decided there was an easy solution and employed some good old fashioned kiwi ingenuity.
Together they have trained a few horses to tow a wakeboarder but on Sunday at Matauri Bay it was a special day for the once wild Kaimanawa horse now named Fern, who passed the tow test with flying colours.
"This was Fern's first time as the tow horse and she excelled, no stress pulling the person on the board with the first try. She is the perfect horse for this job never faltering steady rhythm she just casually galloping down the beach easily towing a person."
Ms Phillips-Harris said there was actually very little pulling required once the person was standing up and the horse galloped along with almost no tension on the tow rope which was connected to a breastplate at the front of the horse.
Rides can last the length of the beach providing the boarder stays upright and was done in relatively shallow water.
Ms Osbourne, the better boarder of the team, said it was an amazing experience to wakeboard under equine power.
"It's an unreal experience being towed by a horse down the beach. It's all natural and there's no boat noise."
She said it was better than being towed by a boat and she was still able to carve up the waves.
Ms Phillips-Harris bought Fern in 2010 after the wild horse was mustered from the Kaimanawa Ranges, on the central plateau.
The dappled grey mare, who was in foal, had gone from virtually untouchable to an outstanding horse who competed in eventing and showjumping. Add to that - wakeboard tow horse.
In three weeks the adventurous Ms Phillips-Harris is heading to Mongolia to compete in the world's longest horse race which will see her ride 1000km in less than 10 days. She is doing the ride to raise money for animal aid organisation Kiwi Care Team and charity Cool Earth.
Share this article