Adam Walker - Man versus Ocean
Save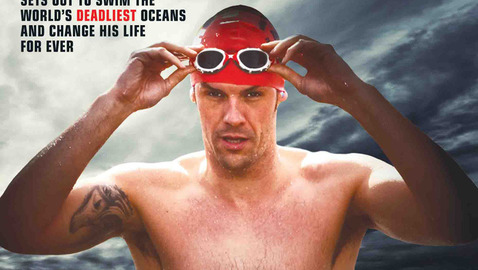 In a new book, record-breaking ocean swimmer Adam Walker reveals the moment he thought he wouldn't survive New Zealand's perilous Cook Strait and the 'unforgettable gift' that saved his life.and the 'unforgettable gift' that saved his life.
It started to go wrong at the two-hour mark. Just after having some sports drink I turned my head into a wave and accidently swallowed a mouth full of seawater; within 30 seconds I started to be sick.
For the next half an hour I felt I had even less energy; it didn't help having to slow down to be sick and then continue swimming. I couldn't allow the sickness to have power over me, so I tried to keep pushing through it and not stop for too long. I also didn't want to highlight any concern to the boat as I didn't want them to think I was in trouble and potentially ask me to exit the water out of fear for my health and safety.
I pleaded to the ocean gods in my mind. I said, 'Please let me just finish without any problems - haven't I been through enough? Just give me something positive on these swims. Surely that's not too much to ask?'
Suddenly, as if my call were being answered, I saw a glimpse of a fin powering towards me, then out of sight. It was so quick that it was impossible to make out whether it was a dolphin or a shark. The only sign I had that it was a dolphin was the laughing and 'Woo!'s that came from Phil Rush [mentor] and -Gemma Claire [girlfriend] on the RIB. I'm sure it would have been a different reaction if it had been a shark. Suddenly I was surrounded by dolphins - there were at least twelve of them. It was amazing, and beyond magical after all the challenges I had gone through; they were all worth it just for this -moment.
It was remarkable - they fell into a diamond formation with me. There were a couple directly in front, a few below and some on either side. At first I thought they must be curious to check out who or what I was. It was incredible how close they were to me: the ones in front were literally within touching distance. I was anxious not to touch them and so I started swimming wider than normal to avoid them.
I now had my very own unique training partners and the feeling was hard to put into words; it was extremely emotional. My heart was beating really fast with excitement. Sharing their world was such an honour. When I had wished for something positive to happen, I could not have imagined I would be given this unforgettable gift.
There was something very right about the situation I was in. I felt completely at ease and the tiredness suddenly seemed meaningless - even the swim didn't seem important at that moment. This was man and nature at its simple best, no small tank keeping them restricted, no overcrowding just me and them.
The pod drifted forward at my speed and one dolphin kept circling around me over and over, each time getting closer as if he or she wanted to make contact with my hand, but then wasn't sure. I felt a little dizzy as I swam mesmerised, looking in front of me and from side to side. I didn't want to miss one second of this interaction.
It wasn't until I felt my neck getting sore after 30 minutes of doing this that I realised I had better start looking downwards again to take the pressure off it.
As I did this, I got a terrible shock. There was a shark approximately 5m below me. It was moving ¬slowly and gracefully, its tail and body swaying from side to side, drifting along. It was hard to tell the actual size of it as it was a few metres down and the depth can be deceptive, but I would say at least 6 feet long.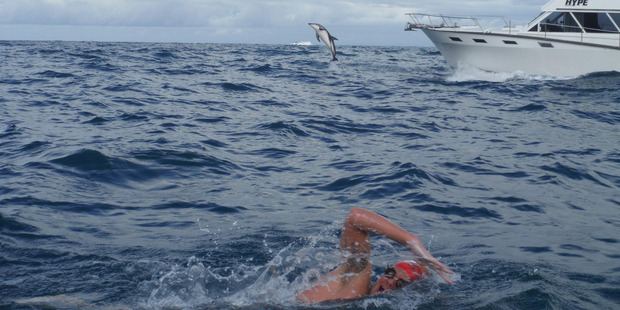 I had a choice: I could focus on either the shark or the dolphins. I chose to focus on the dolphins and the magical experience I was having. I had worked hard in training and the swims themselves to find a way to channel discomfort and pain and to keep my mind positive, free of concerns. This was no different: I needed to focus on the positives.
I diverted my eyes back to the dolphins and pretended I hadn't seen the shark. I tried not to think that it was a potentially dangerous situation, deciding not to inform the RIB either. I didn't want them to pull me out when I felt so well shielded by the dolphins. I couldn't allow my mind to wander, as it served no benefit; I had experienced previous shark sightings in Japan and Hawaii, where I stayed calm, so I knew I must do the same here. The reality is I swim in the ocean, where there are sharks - it is their home. I choose to be there. When you look at the actual facts, there are higher risks in my day-to-day life than being attacked by a shark. I think they are amazing creatures and quite misunderstood. I believe human beings have created this negative image of them through films, which have made us fear them.
I don't believe a shark would actively hunt a human as we are not their normal food source; attacks may well happen from mistaken identity. I appreciate it is a very subjective view, but on the Cook Strait it helped me to keep a clear mind and to carry on with a swim that I had worked so hard for.
Whatever the debate about sharks, I know the risks when I enter the water and I'd have no complaints if something did happen to me through a marine-life attack, intentional or otherwise. It is a risk I am willing to take to fulfil my dream and live the life I want to lead. There are risks every day that we choose not to concern ourselves about - we don't know what's around the corner and if we are afraid to do the things we love, we won't be happy.
The important thing is how we deal with these fears in our minds, judging if they are a true threat or if we have convinced ourselves otherwise. When people cross the road, they don't pre-emptively worry, 'What if I get knocked over by a car?' They just cross it.
Continued below.