Anger at Flaxmere window smashing spree
Save
Tuesday, 21 March 2017
11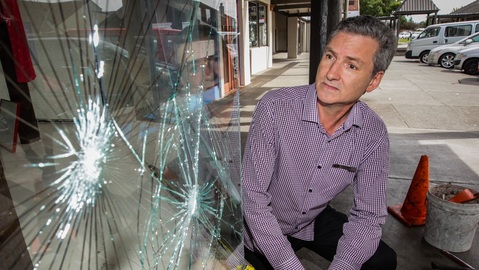 The Flaxmere community is losing patience with groups of young people who have been smashing shop and building windows around the centre of the village over the past few weeks.
The latest vandalism happened between 12.30am and 1am on Saturday, locals said.
Yesterday morning repairs were being made to windows at the St Vincent de Paul, Bay Sushi, Flaxmere Dental and Learning Innovations premises.
It was the fourth time Bay Sushi's windows have been smashed and a staff member said it was getting very frustrating.
"They did it for nothing - they did not even break in.
"The landlord is getting very annoyed at constantly having to repair the windows that are being broken at the same time on Saturday and Sunday mornings."
They said the trouble started last year and "it's going on and on".
St Vincent de Paul manager George David said one window was broken about a week ago, but all the shop's windows were smashed in the latest hit.
"Everybody is very disappointed, they are asking 'why is this happening?'." he said.
Security patrols and CCTV cameras are set up around the area so he could not understand how the vandals were getting away with it.
"It's not a good look for Flaxmere - these youths do not seem to have any respect."
Another person spoken to yesterday said the windows were being smashed with rocks.
He said he went to the village shopping precinct on Saturday night and 14 to 15 boys and girls were hanging around there and the skate bowl. Some were on the roof of the New World, which had also been targeted over recent weeks.
Hawke's Bay police sergeant Dean Lyall confirmed the police were investigating wilful damage in Flaxmere village over the past month.
Continued below.