Heritage Hotel's Grand Tearoom for sale
Save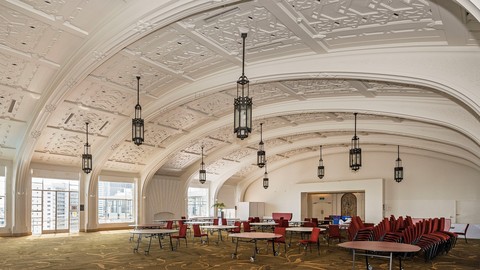 Investors, owner occupiers or developers have a chance to buy a slice of Auckland's history in the form of the ornate Grand Tearoom atop the Heritage Hotel in Auckland's CBD.
The 539sq m top floor at 35 Hobson St has operated as a function centre since the building was converted to a hotel in the late 1990s.
Prior to that it was an integral and popular feature in the Farmers department store building where shoppers could sip a cup of tea and nibble on cake in elegant art-deco surroundings.
The property includes four car parks and is generating net annual rental income of just over $300,000 from a 20-year lease to Dynasty Hotel Group expiring in October next year.
Featured in Bayleys' latest Total Property portfolio, the floor is for sale by international tender closing on April 21 unless sold earlier by private treaty.
The floor is being put up for sale on behalf of a private investor who has owned it for about 17 years, says Matt Lee of Bayleys' Auckland-based international division, who is marketing it with colleague James Chan.
"The lessee has indicated it will not be renewing its lease over this part of the hotel so this opens up a range of commercial or residential add-value options for the purchaser of this exceptional property," says Lee.
"The owner obtained a five-year resource consent for the subdivision of the floor into three or four penthouse apartments but has now decided to sell to pursue other interests and leave that opportunity to someone else. Alternatively, the entire 539sq m space could be converted into one spectacular penthouse suite making it one of the largest of its kind in New Zealand."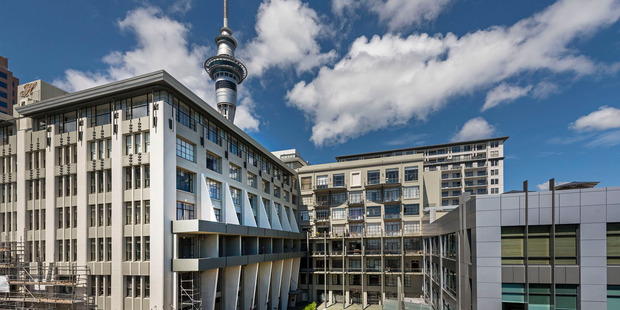 Chan says the character features of the floor, particularly the high-stud art-deco ceiling, with its intricate detailing and distinctive chandeliers, make it an appealing proposition for a variety of uses. Extensive floor to ceiling glazing also makes the most of sweeping views of the Waitemata Harbour. There is access from the floor to two separate external decks each having unobstructed views over the Viaduct Basin and the Hauraki Gulf.
"The Grand Tearoom can host 450 guests in cocktail style or seating for up to 300 for a full banquet and has been a popular venue for weddings, other private events and corporate functions," says Chan. "High profile sporting teams such as Italian America's Cup yachting syndicate Luna Rossa and more recently the All Blacks have also used it as their team headquarters and meeting place when they have been staying at the hotel. In 1999, Bill Clinton, then President of the United States, presented to APEC members in the Grand Tearoom."
Continued below.