Quiet retreat from city
Save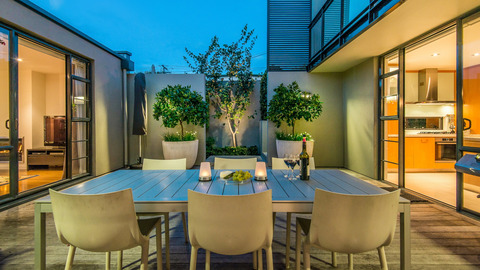 34 CURRAN ST, HERNE BAY
SIZE:
Land 263sq m, house 243sq m.
PRICE INDICATION:
Above $2.3 million.
INSPECT:
Sat/Sun 11.30am to noon.
BODY CORP:
$1903.91 a year.
SCHOOL ZONES:
Ponsonby Primary, Intermediate, Western Springs College, Auckland Girls' Grammar.
CONTACT:
Pene Milne, Sothebys, 021 919 940.
AUCTION:
May 4, 2pm on site (unless sold prior).
By Catherine Smith
To the outsider, the trek from a leafy suburb on the east of the city to one on the west is not that big a leap.
Yet when Christine and Paul Cavanagh moved into their crisp Kent Dadson-designed town house in Herne Bay in 2005, they were delighted to find not just a house, but a warm, neighbourly community.
"We are loathe to leave this community, but it is time for us to find a place that is on one level, as we get older," says Christine.
The couple, who have been driving forces in the Herne Bay Residents Association, love how easy it is to walk about their neighbourhood - up the hill to the cafes and shops at Jervois Rd, down the hill to Westhaven, the quick access to the city or over the bridge.
But once you go through the gate in the high fence, surrounded by clipped hedges and gracious old trees, the three level concrete block house is a quiet retreat from the busy city-side suburb.
The couple, who are fans of architecture and design, were downsizing from their family home.
They were drawn to the modern, international style of the house, one of three carved off the gardens of the former big house estate.
A staff house, built in 1930 by the pool, is part of the four properties in the subdivision developed in 1995.
Remarkably, Paul's mother lived here as a child when her mother was housekeeper to the family.
The concrete and concrete block house is cleverly arranged around a central dining courtyard overlooked by the kitchen and informal eating area on one side, the huge formal lounge on the other.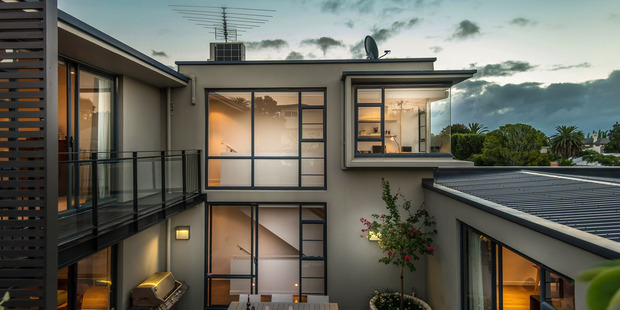 The rhythm of the black-framed windows, including the sunny corridor/gallery, the proportions of the high ceilinged rooms and the recently refurbished oak kitchen were a perfect backdrop to the Cavanaghs' mix of antique and modern furniture and extensive art collection.
Despite walls of picture windows overlooking the trees and sea in the living and master bedrooms, there was also plenty of wall space for the paintings and room for their huge library.
Continued below.