Concrete makes for comfortable living
Save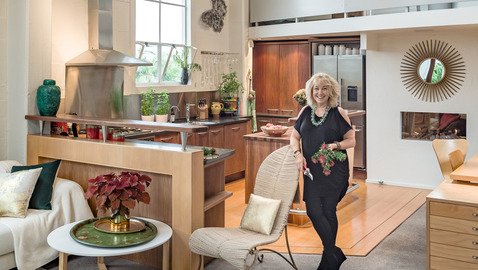 Land 371sq m, house (approx) 249sq m.
SIZE:
$2.5 million-$3.5 million. Sale by negotiation.
PRICE INDICATION:
$2.5 million-$3.5 million. Sale by negotiation.
INSPECT:
Sat/Sun 1pm-1.45pm.
SCHOOL ZONES:
Bayfield School, Ponsonby Intermediate and Western Springs College.
CONTACT:
Patrick McCarthy, 0272 333 988, UP Real Estate.
* Plus 1 OSP
By Penny Lewis
Seven years ago, one of Sally Tagg's dear friends told her this former Auckland Electric Power Board substation would be the perfect home for her.
When Sally walked through the door of the concrete building, which was converted into a home in the early 1990s, she saw immediately how it suited her down to the ground.
"Its high stud and beautiful light really suits the work I do," Sally says.
Sally is a botanical artist, photographer and sculptor who prefers to work with natural light.
She creates her botanical artworks by constructing arrangements made with flowers, plants and leaves and then photographs them, often printing the images on vinyl so they can be displayed outside.
Magazine readers may recognise her name from her photography shoots for NZ House & Garden, NZ Gardener and Australian Women's Weekly. Sally mostly works from home, so it was important to find a home that doubled as a studio.
"My life is a shoot and the whole house is a studio," she says.
Sally is unsure of exactly when the substation was built, but understands it was most likely in the 1940s.
Built in an Art Deco style with fluted detailing around the outside, its concrete walls are 30cm thick.
"It was built to withstand internal combustion," Sally says.
Now the concrete walls mean the building has other qualities. It's very quiet and the concrete's thermal mass means it's cool in summer and warm in winter.
A lush, subtropical courtyard garden at the front of the house is private and secure thanks to a fence and keypad-entry gates.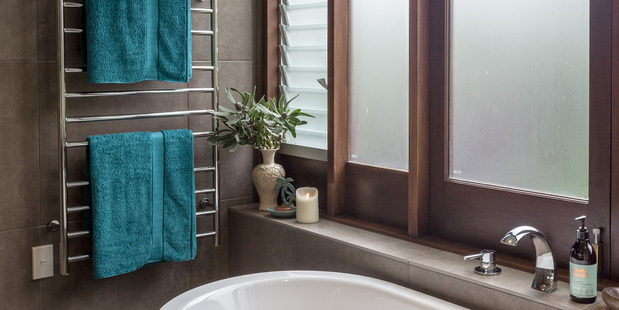 The garden is partially protected from the elements by a discreet canopy that Sally had installed to provide sheltered outdoor living - and to be a dry place to photograph outside.
Continued below.