Premium Mt Wellington site for sale
Save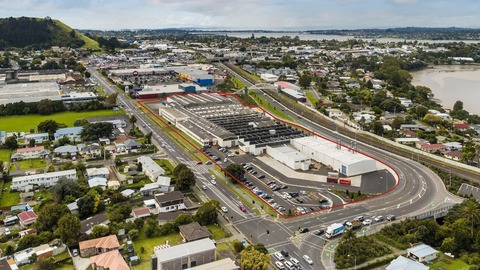 An expansive mixed use property for sale in fast-growing Mt Wellington is being billed as Auckland's best development site.
Colliers International is marketing 80 Mt Wellington Highway exclusively - for sale by deadline private treaty, closing June 21.
Broker Andrew Hooper, who is marketing the property with colleagues Greg Goldfinch and Todd Kuzmich, says it's the first time since 1991 the 3.32ha property has been on the market.
"This is Auckland's best development site right now," Hooper says. "The property's high-growth, central location gives it immense potential, while its mixed use zoning allows for a mix of residential and commercial development.
"This is a chance to create a premium residential, retail, office, education or hotel development in one of Auckland's most tightly held land supply areas.
"We're expecting very strong interest from developers, both locally and internationally."
The freehold property, spanning 10 separate titles, is owned by the occupiers NCI Packaging.
NCI will continue to occupy the site on a short-term lease, giving the new owner a holding income while NCI finalise their relocation plans.
The proposed leaseback period is for a minimum of two years, with at least six months notice to vacate.
Greg Goldfinch, national director of industrial sales and leasing for Colliers, says the property is exceptionally well located on Mt Wellington Highway.
"The site benefits from huge exposure on the main route through Mt Wellington - one of Auckland's most popular retail precincts.
"It is close to New Zealand's largest retail development, Sylvia Park, as well as a growing number of bulk retail locations."
Goldfinch says Auckland's success story is driving demand for commercial property, with overseas investors among those eyeing local development opportunities.
"Business is booming in Auckland," he says.
"With a population of some 1.5 million, the city is New Zealand's largest commercial centre and main international gateway. Auckland provides 38 per cent of New Zealand's GDP and is the destination for 62 per cent of the country's imports."
Goldfinch says the Mt Wellington site is suited to a range of different developments, or a mix of development types.
"Among the options is a new office development. Tenant demand for office space in Auckland is at an eight-year high," he says.
"The low office vacancy rate means office space is being readily absorbed as supply increases, helping to drive up rents and capital values."
The site is also ideal for bulk retail, given the area's existing strength in that area, Goldfinch says.
Continued below.