Big Manukau City fringe site for sale
Save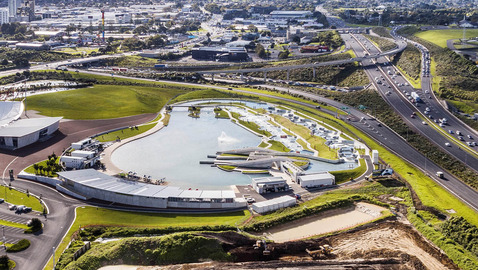 A big freehold development site, suitable for a hotel or retail centre, is for sale on the fringe of Manukau City adjacent to the Vodafone Events Centre and Vector Wero Whitewater Park.
"There are a number of possibilities for this prime site," says JLL agent Tommy Zhang who is marketing 8-10 Pacific Events Centre Drive for sale through an expressions of interest campaign closing at 4pm on Wednesday May 31.
"Potential developments could include a hotel, retail outlets, food and beverage services and serviced apartments. The property will be fully serviced and it is ready for development, so it could be built on immediately."
Zhang says the positioning of the 8816sqm site on the eastern side of Great South Rd gives it excellent exposure to the State Highway 1 southern motorway.
"It's also within walking distance of Westfield Manukau City shopping centre, Manukau railway station, Manukau Institute of Technology, and Rainbows End theme park," he says.
"The land, which is zoned for Mixed Use development and as a special housing area, offers investors wide scope for commercial development."
Under the Auckland Unitary Plan, Mixed Use development zones allow for residential and smaller scale commercial activity. They can also accommodate a range of possible building heights depending on the context.
Zhang says the land for sale is also located within the 9.4ha Pacific Gardens development in Manukau - one of the biggest special housing areas under the Auckland Housing Accord.
"Over the next five to seven years, it is envisaged that this $700 million project will deliver more than 1100 homes that will house over 3000 people.
Continued below.