Window washers row reignites
Save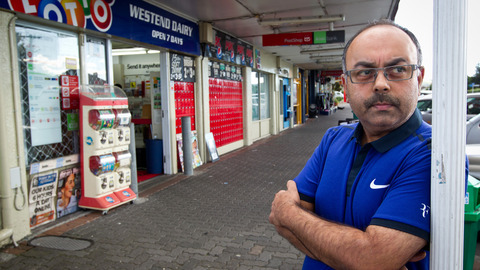 A Rotorua store owner says window washers at intersections are "killing" his business by scaring away customers.
But one local window washer says no harm is being done and washers in Rotorua are providing a service for people that want it.
It comes as parliament considers a bill cracking down on car window washers causing a nuisance.
Jaymesh Kumar, owner-operator of Westend Dairy on Malfroy Rd, said he believed window washers drove customers away.
"[Customers] don't stop anymore, they don't want to come."
He said they were "killing my business".
Mr Kumar said he called the police "every day" about the issue.
National MP Jami-Lee Ross' bill is aimed at the window washers at intersections and
bans people washing a car or a part of a car on a road if it is unsafe, causes an
obstruction or "may intimidate or cause a nuisance" to others.
If the bill is passed, window washers at intersections could be fined $150 on the spot by the police. The Transport and Industrial Relations Committee is currently considering the bill.
Rotorua already has a bylaw to stop window washers - but it has to prosecute people
to enforce it, with a maximum fine of $20,000.
Mr Kumar said he was worried if the bill was only for intersections it would be "back to square one".
"It doesn't solve the problem, they'll basically move to the shopping centre."
But Mr Kumar was also concerned about the window washers.
"They need support. Why are they doing this? There is no support for them. Where can they go for help if they are having financial difficulties?"
Local window washer Brian 'BamBam' Mollgaard said he had been doing it for 25 years "on and off", using a mixture of dishwashing liquid and methylated spirits to clean the windows.
Continued below.