Golf: Quick success for Kiwi caddy
Save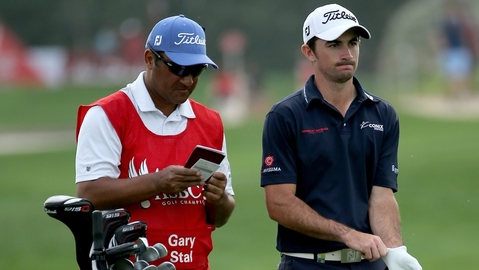 Kiwi caddy Jason Jacobs has turned a three-week trial into a season-long contract in quick fashion. Jacobs was on the bag for Frenchman Gary Stal when he broke through for his maiden victory on the European Tour at the Abu Dhabi HSBC Golf Championship in the United Arab Emirates last weekend.
It was the first time the pair had worked together, and Stal and his manager quickly made the partnership more permanent.
"We are definitely going to be working together this year," Jacobs said. "Early next week, we are going to sort out which tournaments we play in and where we'll play.
"I was very fortunate. Gary has been considering a couple of caddies in the last few weeks and he and his manager spoke about giving me a three-week trial, so, ironically that was our first week together."
Stal's one-stroke victory over a strong field that included the likes of world No 1 Rory McIlroy and defending US Open champion Martin Kaymer means the 22-year-old has earned starts in a range of tournaments he was only stargazing at a few weeks ago. He should contest The Open and PGA Championship, as well as the lucrative World Golf Championship events at Doral in March and Akron in August.
"It sort of opens doors for both of us," Jacobs said. "Sometimes you can have a good opportunity and it doesn't work out, or you can get lucky straight away."
Jacobs moved to Europe 12 years ago as he decided to make a go of caddying, having spent time in Japan teaching physical education and English following his university studies.
"I've always enjoyed travelling and I wanted to see the world," the 43-year-old said. "It's more of a lifestyle. You can make a lot of money in our industry but it just depends. You need a combination of luck and a certain golfer to be compatible with."
Continued below.