What the? Tree hut riles landowner
Save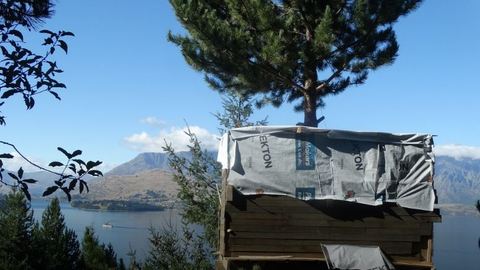 He has one of the best views in Queenstown and the cheapest rent.
But one thing Aussie carpenter Andy admits he doesn't have for his tree house is permission from landowner Peter Clark.
Clark is furious and says he'll take a chainsaw to the tree, off Sunshine Bay's Arawata Bridle Track.
"It's a multimillion-dollar piece of land and I'm sick and tired of people trespassing and using it how they like," Clark says.
"This guy's obviously one of those people. I'll go up with a chainsaw and cut the thing down, whether they're in it or not."
Queenstown's Mountain Scene newspaper approached Andy on Tuesday night, after a reader's tip-off.
The 20-year-old, who didn't want to reveal his surname, said he had been living in the tree house for three weeks.
He said he had tried to contact the landowner but failed. Naively, he thought the owner wouldn't mind.
"It's an amazing view to wake up to every morning and a bit of an adventure. They were throwing the material out from work so I wanted to put it to good use."
Andy said he took a week off work to build the tree house. It has carpet, insulation and a hammock.
Continued below.