When the paddle steamer Waimarie needed hauling ashore for her marine survey last year, there were no better machines for the job than her road-going cousins -- two steam traction engines.
If not for the mandatory high-visibility vests worn by the men supervising the operation, the scene on the banks of the Whanganui River could have been lifted from the late 19th century.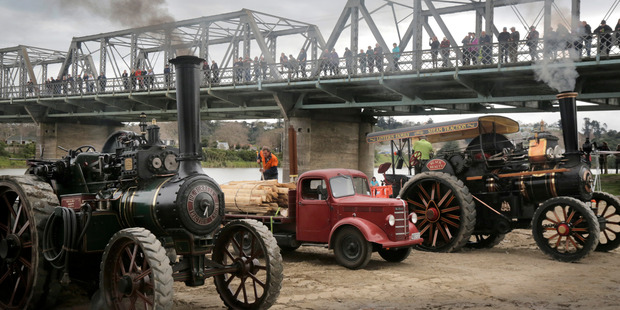 Making sure the operation to get the Waimarie out of the river went smoothly was local steam expert and traction engine owner Steve McClune.
"There were around 2500 traction engines imported to New Zealand, but there are only around 10 per cent of them left now," he says.
Alexander Hatrick brought four of the great steel and cast iron machines to Whanganui and sent them up the river on a paddle steamer in the 1890s.
The engines, along with 13 trailers, were offloaded at Pipiriki and used to help build the main trunk line from Ohakune.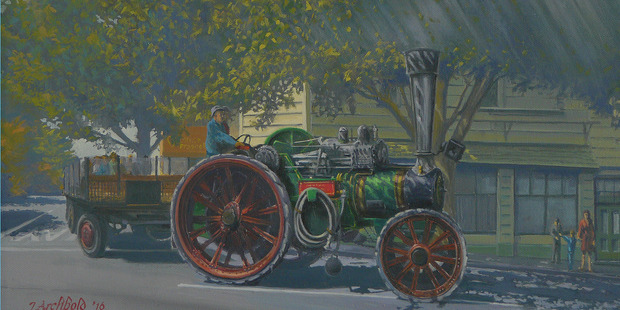 "They were used a lot for road and bridge building when the only alternative was draft horses or bullock teams," says Steve.
Portable steam engines had been in use for a while and had to be hauled by horses until Thomas Aveling came up with the idea of fitting a long driving chain between the crankshaft and the rear axle in 1859.
Steve says traction engines were never manufactured in New Zealand although English manufacturers had many agents based here.
"The most common brands here were Fowlers and Burrells."
Traction engines were used as portable power sources on New Zealand farms, making back-breaking work like threshing, tree pulling and general farm duties easier.
"They were not only used for work, though," says Steve.
"They can tow really big carriages so a whole congregation could go on a church picnic together instead of taking a whole lot of horses and gigs."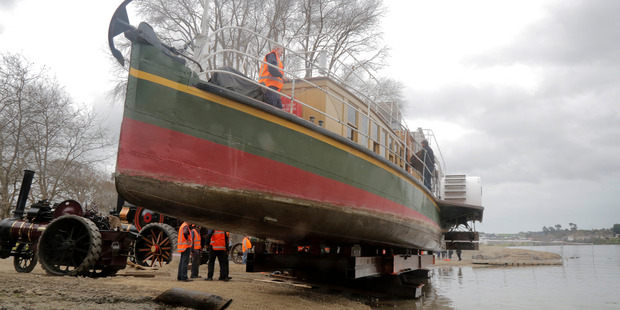 Each year Steve hooks a carriage up to one of his engines and can be seen taking passengers for rides around Whanganui at Vintage Weekend and at the annual Steam Fair in Feilding.
Painter John Archbold captured a moment when Steve and his engine were towing a group of passengers from Drews Ave into Ridway St last year.
When he is not busy driving and maintaining vintage steam machines, Steve is taking care of modern ones.
He recently sold his Whanganui business -- Steam and Machinery Inc -- although he still works for the company, repairing steam boilers all over New Zealand.
"I am working my way towards retirement," he says from New Plymouth where he is fixing a furnace.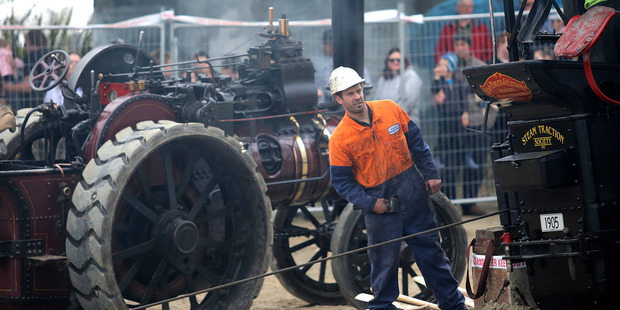 Steve's son, Johnny McClune, had been working at the business with his father for the last decade until his life was tragically cut short in November last year.
The younger McClune was 32 when he died after falling off the back of a truck in Whanganui.
After completing his automotive apprenticeship in Hawke's Bay and moving into general engineering, Johnny moved back to Whanganui to work with his father a decade ago.
Continued below.