Former pupil 'groomed' by dance teacher
Save
Saturday, 21 November 2015
1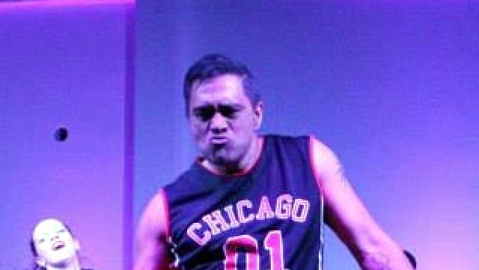 "We were impressionable teenagers and he's giving you this wonderful stage and you get caught up in it."
Rebecca Sloan - known as Bex - is reflecting on her time with a Wanganui dance group, a time that nearly destroyed her life and that has seen her dance tutor in prison for child sex offences.
Stayz Raukawa was sentenced last month to three years and six months in prison for four charges of unlawful sexual connection and eight counts of indecency with a 15-year-old girl, Bex.
This week his name was made public thanks to a courageous stand by Bex to have her own name made public.
"I started with Stayz's dance group when I was 12," says the former Wanganui High School student.
"Dance was my life back then - it was my passion - and he was very charismatic and had complete control."
Now 26 and re-building her life in Auckland where she works in marketing and events, it is only in the past 12 months that Bex has come to understand how she was manipulated 10 years ago.
"I stopped dancing at the beginning of this year. Stayz controls Latin dancing in New Zealand - he's such a strong presence, he's at every event ... you couldn't avoid him. So I just stopped.
"I had eventually worked out just what had happened to me.
"I had been heavily groomed and brainwashed. I didn't understand that it was sexual abuse - in my mind, it was a 'relationship'."
Looking back, she can see how easily she fell into it.
"In a small town like Wanganui there's not a lot for young kids to do, so we got caught up in the glamour of it all.
"Stayz was called 'the Pied Piper' - and people followed the dream.
"Some people described his dance group as 'cult-like'. Of course, back then we said 'No, it's not a cult' but now I think maybe they were right.
"People said he was 'creepy' and things he did were 'inappropriate' - you get that gut feeling about things but back then nobody talked about it."
The abuse started when she was 15, having been preceded by text conversations, firstly about dancing but gradually getting more sexual.
Bex became a leader in the dance group and they started attending festivals around New Zealand. Raukawa would also take his students away, staying in youth hostels and campgrounds.
The first instance of abuse took place in early 2005 at a festival in Gisborne, and it developed into a fully sexual "relationship" at Raukawa's home on Taupo Quay.
"In 2005, he announced his engagement, which was a shock. The 'relationship' carried on after he got engaged but when I was 16 and we were on the trip to LA, I said 'No' for the first time - that pissed him off quite a lot.
"I carried on with the dance group and carried that secret with me. There were times when I really wanted to share it with my best friend, but I told no one till March this year ... I couldn't keep quiet any longer."
Continued below.