Angels in the Architecture
Save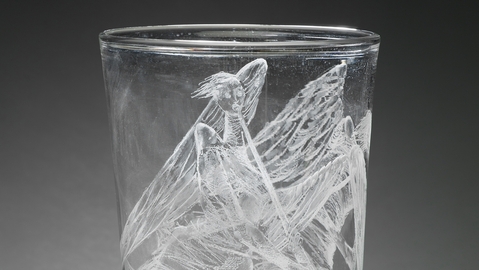 Currently on display in the exhibition Function & Fancy: Decorative Arts from the Collection and Beyond is a vase engraved with two ethereal flying angels blowing horns.
The vase, at just over 40cm tall, is made from clear handblown crystal and engraved by artist John Hutton.
The angels on the vase are from Hutton's best known work - the great West Screen of Coventry Cathedral, United Kingdom, completed in 1962.
John Hutton was born in Clyde in the South Island in 1906 and attended Wanganui Collegiate School from 1920 to 1922.
After studying law for several years he abandoned it to take up painting despite not having any formal art training.
In 1935 he moved to England with his first wife Nell Blair and became interested in mural painting, working for the Paris Exhibition in 1937. After serving in World War II as a camouflage officer, he continued working on large-scale painting commissions throughout Britain.
In 1947 he designed his first large-scale glass engravings after which he focused mainly on glass engraving.
His first marriage ended and in 1963 he married Marigold Dodson, the model used for many of the figures in his artwork.
During World War II, on November 14, 1940, Coventry's Cathedral of St Michael was destroyed by Luftwaffe bombs, along with much of the city.
Today Coventry Cathedral consists of two buildings on one site: the ruins from 1940 and the new building, consecrated on 25 May 1962.
Continued below.