Photo triggers memories for man who attended Tangiwai rail disaster
Save
Whanganui man Bruce Harper was taken back 63 years when he saw a photo in the Wanganui Chronicle last week.
The photo, which shows a man surveying the wreckage of the train that crashed into the Whangaehu River at Tangiwai in 1953, has special significance for Mr Harper, because he was there and the man pictured was his boss.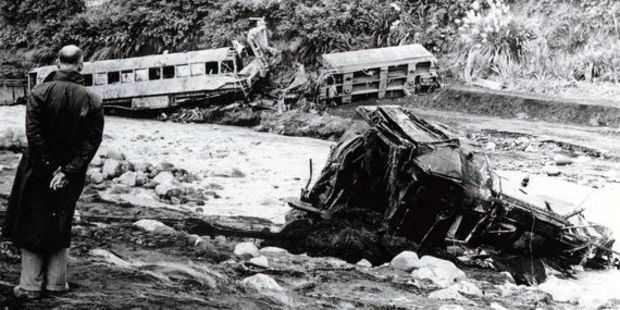 "The man in the photo is Hugh Stevens who was the district engineer for NZ Rail in Whanganui at the time.
"I was a draftsman for the railways, and I travelled to Tangiwai with Mr Stevens and a group of senior engineers to carry out a site survey after the crash," said Mr Harper.
"I had to take measurements at the site and tell the engineers so they could write their report."
Mr Harper said he must have been about 16 at the time and recalls being upset by the sight of the wreckage.
"I remember that Mr Stevens was upset, too, and I would have been standing somewhere behind him when that photo was taken.
"He was a lovely man and well liked and respected by everyone who worked at the railways then."
Mr Harper said he had never been back to the crash site since 1953 but thinks he would like to go and see the memorial there.
Continued below.