Chernobyl roof collapses under snow
Save
Thursday, 14 February 2013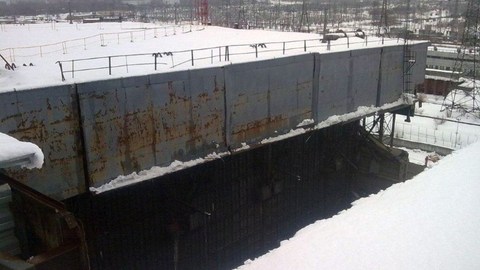 A section of the Chernobyl nuclear power plant in Ukraine has collapsed under the weight of snow, officials say, raising new concerns about the condition of the facility that was the site of the world's worst nuclear accident.
There were no injuries after the accident nor any increase in radiation from the reactor that exploded in 1986, the country's emergency agency said.
French construction firms Vinci and Bouygues said today they had evacuated as a precaution around 80 employees working on a new protective shelter from the site.
"The preliminary reason for the collapse was too much snow on the roof," the emergencies agency said, adding that radiation levels were "within the norm".
The roof was constructed after the 1986 disaster but is not part of the sarcophagus structure covering the exploded reactor, it said.
However the collapse underlines concerns about the condition of the now defunct nuclear plant over two-and-a-half-decades after the explosion of reactor number four.
"Even if the radiation levels did not change, this is a worrying sign," Vladimir Churov of Greenpeace in neighbouring Russia told the Interfax news agency.
"If there are sections in the turbine hall that are falling down there is no guarantee that the sarcophagus built in 1986 will not be the next to fall."
The 80 Vinci and Bouygues workers employed to set up the new shelter over the exploded reactor as part of the Novarka consortium were all given radiation checks and evacuated, a Bouygues spokesperson said.
"Novarka is employing all measures to limit surface contamination. These are currently within admissable limits."
However the spokeswoman for the Chernobyl plant, Maya Rudenko, dismissed Greenpeace's concerns and said that the existing sarcophagus had been strengthened from 2004-2008 and could last until 2023.
Continued below.