Many dead in freak tree accident at waterfall
Save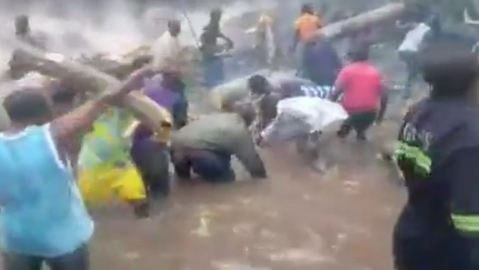 A large tree that fell during a storm at Ghana's Kintampo Waterfall killed at least 17 people, mostly students, as they were visiting the site north of the capital.
As of today, 17 bodies have been recovered at the resort, about 414km north of the capital, Accra, Ghana police commander Desmond Owusu-Boampong told local media.
Most of the dead are students from the Wenchi Methodist Secondary School and the University of Energy and Natural Resources, he said.
Paul Agyemang, a fire officer who lives in Kintampo, said that when his team arrived yesterday there were at least 20 dead who had been swimming in water as the tree was uprooted and fell.
A video posted by Agyemang on his Facebook page of the aftermath shows rescuers still searching in the brown muddied water below a large waterfall, as the bodies of some 10 young students lie on the grass.
Ghana's Tourism Minister, Catherine Afeku, expressed sympathies to the families of the victims.
"We extend our condolences to the families of the dead and pray for the injured who have been rushed to the Kintampo and Techiman General Hospitals," she said.
The Ghana Tourism Authority will work closely with police and Kintampo local officials to ensure the families receive needed support and information, she said.
-AP
Share this article