Le Pen accuses rivals of pushing 'project fear'
Save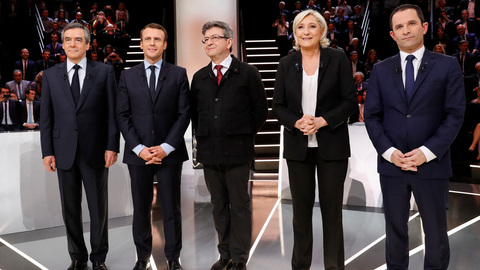 Marine Le Pen accused her main rivals in France's presidential race of promoting "project fear" over her plans to leave the European Union and the euro in an unprecedented televised debate.
Brexit was the focal point of one of the most violent clashes in the three-hour debate - the first of three before the first round of voting on April 23 - in which the five main candidates finally started discussing policy in a campaign dogged by sleaze allegations.
In one of a series of heated exchanges, conservative nominee François Fillon accused Le Pen of being a "serial killer"of the French economy in her plan to exit the euro, restore the franc, and to hold a referendum on leaving the EU.
"You are dragging the country towards veritable economic and social chaos, which would lead to the ruin of both borrowers and savers," he said.
Polls suggest that almost three quarters of the French are against Le Pen's plan to replace the euro with the franc, with many fearing it could spark a bank run if she was elected.
Le Pen, who, according to polls, will reach the final round of the election only to be trounced by independent centrist Emmanuel Macron, hit back: "That's called project fear".
"They used the same argument before the Brexit vote and the election of Donald Trump," she said.
Macron, 39, an ex-banker and former Economy Minister who has never held elected office, chimed in, saying: "Those who were responsible for Brexit, who said everything is possible and it will be wonderful have all scampered off. They have all gone into hiding."
He predicted that Britain would suffer from leaving the EU.
"We're going to start seeing the results (of their departure). Because it's other Conservatives who are going to have to deal with it, and by the way we're going to have to be incredibly rigorous (in negotiating with Britain about its exit by not giving them any undue concessions)," he said.
Le Pen told him to "be a good sport".
"The results in Britain are wonderful. They have unemployment that is lower than it's been for decades. Everyone knows what my view is on the euro and the European Union, which forbids economic patriotism, economic patriotism," she said.
"Unlike you, I propose to have a strong France inside Europe," said Macron.
A real parallel in this French debate to the "how much should we panic" gap between Clinton and Trump.

— Josh Barro (@jbarro) March 20, 2017
Continued below.