'Did your father die?' Boy's harrowing tale
Save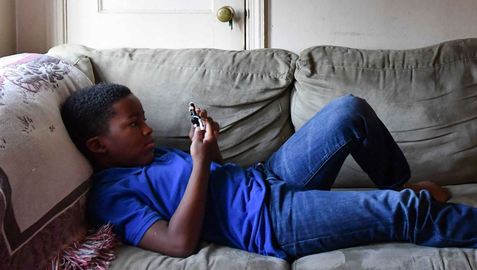 By John Woodrow Cox from The Washington Post
The boy was sitting in his favourite spot, atop his dad's bed, playing their favourite game, NBA 2K16 on the Xbox One, when he heard the sound. Pop, pop, pop, from just outside the second-floor window on that warm summer afternoon.
Tyshaun McPhatter's father burst through the open doorway, crouching.
"Get down on the floor," he screamed, and the 7-year-old knew what that meant: more gunshots.
Bullets, Tyshaun had learned, could break glass and rip through skin and bone.
On his dad's dresser was a reminder: A three-inch button inscribed with "Rest in Peace" that honoured a family friend shot two blocks away.
Tyshaun didn't want to get hurt like that, so he dropped the Xbox controller and leapt down to the worn hardwood floor of their ageing three-bedroom house in southeast Washington.
Chest throbbing, he hid behind the footboard and covered his head with his hands, The Washington Post reported.
He was afraid, but not as much as he had been a year earlier when someone started shooting near a playground just as he skidded down a red plastic slide. Tyshaun figured all kids heard gunfire outside their homes, so he might as well learn to be brave, like his dad.
"I'm not scared of nothing," he started telling himself.
Tyshaun lived part-time with his father, Andrew McPhatter, along a row of 70-year-old, red-brick duplexes in Congress Heights, just three miles from million-dollar townhouses and US$14 cocktails.
But on their side of the Anacostia River, where more than half of the city's homicides occur and nearly every other child grows up in poverty, many boys and girls learn to navigate peril before they learn to read.
For kids in Tyshaun's neighbourhood, and millions of others in high-crime communities across the country, the unrelenting threat of violence shapes almost every aspect of their lives: The streets they walk down, the parks they visit, the pictures they draw, the nightmares they have, the number of parents they come home to.
Tyshaun's mum, Donna Johnson, had worried since he was born about how that environment would affect her boy, who had both a deep well of compassion for people he sensed were suffering and a tendency to explode in anger, often with his fists, when he was being teased or challenged.
She wanted Tyshaun's story told so people who live in far safer places would understand his world. His mother, relatives, teachers and friends all agreed to talk about him.
As he prepared to start second grade in the weeks after the shooting outside his house, the danger around him only crept closer.
He came home one day to discover that a bullet had punched a dime-sized hole in their steel front door, just below his eye level, before tearing into the back of the living-room TV.
In November, five days before Tyshaun's eighth birthday, another of his dad's friends was killed, and one more died in January after being shot 500 feet from their house.
The bloodshed intensified in late February. Four people were wounded in one evening less than half a mile away, and another was hit four nights later.
Then, at 10:50am. On the first day of March, someone raised a gun one block from Tyshaun's home and a dozen steps from the front gate to his school, Eagle Academy Public Charter.
But inside, Tyshaun couldn't hear the five shots that would thrust the violence circling him for years into the centre of his life.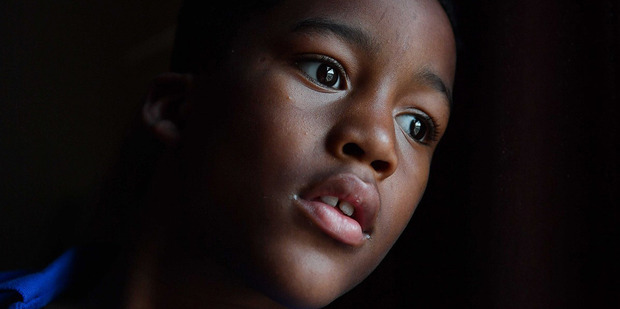 'I hope my daddy's okay'
Tyshaun was at lunch, trying to avoid the day's free serving of beefaroni, when he overheard a teacher mention that the school had been locked down.
That didn't bother him. Tyshaun was used to lockdowns.
Eagle had been through one just a week earlier, so as class time approached, he headed out of the cafeteria, where a seven-foot-high red poster hung on the wall. "The Cat in the Hat," it declared next to an image of the character, "does not like that violence."
He didn't think much more about the latest commotion in his neighbourhood until he passed by the school's front lobby. Through an expansive glass window, he saw yellow tape and police cars. Tyshaun's eyes fixed on the red and blue flashing lights.
His house was in that direction, just beyond all of those officers.
"I hope my daddy's okay," he recalled thinking.
Tyshaun had last seen his father two days earlier, when he dropped the boy off at school after their weekend together.
His parents had split up years earlier, and while his dad remained in Southeast, his mom moved two miles away to Oxon Hill, Maryland. In part to escape the chaos. Always, though, they had raised Tyshaun together.
His parents believed the best way to keep him safe was to keep him busy, so he was perpetually signed up for something: Cub Scouts, hockey, football.
Tyshaun, at a wiry 4-foot-4, had decided to play linebacker for the Washington Redskins when he grew up.
Andrew, 28, had three sons, but people who'd known him as a child, before the dreadlocks, called Tyshaun his twin.
They had the same chocolate eyes, strong chin, quiet smile. And both tended to cock their heads to the side in just the same way.
Tyshaun used it for everything: tongue out when he wanted a laugh, eyes pleading when he wanted a treat, lips pursed when he wanted to look like a teenager.
He'd stay at the house his dad shared with his grandma and her fiance mostly on weekends, but often longer.
They seldom went outside, because it was safer not to, so they spent hours in Andrew's room, where father taught son multiplication tables and son taught father the moves to the rap song Juju on That Beat.
Sometimes, his dad, who worked construction, tried to rub his smelly feet on Tyshaun as the boy ducked and dodged and giggled until his eyes watered.
They'd fixate on the Xbox well past his bedtime using Andrew's screen name, "lilandy," which Tyshaun thought was stupid because nothing about his 5-foot-9, thick-bearded father seemed little to him.
He would even get to play Grand Theft Auto V and Battlefield 4, the violent games his mom didn't like.
About real-life violence, though, he said his dad was firm: Never pick up a gun, but fight if you have to, because fighters live to fight again.
Now Tyshaun was back in his classroom, grappling with math problems, and the red and blue lights were still flashing outside, and he still didn't know why.
He also didn't know why he'd been told that his mum was picking him up early, only to be told later that she wasn't. And he never did know that she had come but collapsed in the lobby, unable to face him.
Not until that evening did he see her, and that's when he knew something was wrong.
"Mum, are you okay?" Tyshaun asked as they sat in the darkness in her grey Dodge Durango.
She pulled him onto her lap.
"Your dad was shot," his mom said, but he was still alive, and that gave Tyshaun hope.
At school the next day, when a friend who knew about the shooting asked if he was all right, Tyshaun heard another classmate laugh. Furious, he shoved the boy.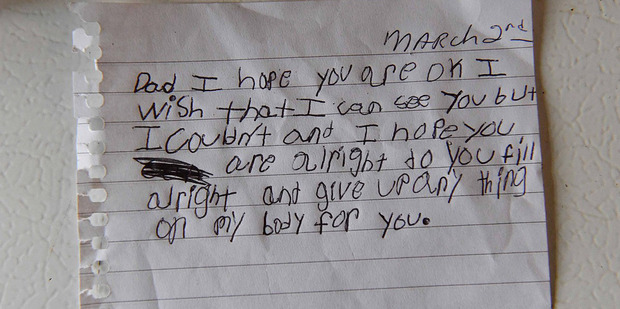 Tyshaun desperately wanted to see his father, but at his age, the hospital wouldn't allow it, so he insisted on writing a letter.
"Dad I hope you are ok," he scribbled in black ink, promising to "give up any thing on my body for you."
On Sunday, four days after the shooting, Tyshaun's mum picked her son up from the home of friends who'd invited him for a sleepover.
"All right, Ty. I'll see you next weekend," one of them said.
"No, you're not. I'm going to be with my dad," Tyshaun replied, and he thought of their last weekend together. They had seen The LEGO Batman Movie and eaten chicken-flavoured instant ramen noodles, Tyshaun's favorite. They had danced again to the rap song.
Six hours later, his mother got a call at home. When she hung up, she sat on the couch and held his hands as he stood in front of her. She looked him in the eyes.
"Your father, he died today," she said, and without a word, Tyshaun slumped to the floor.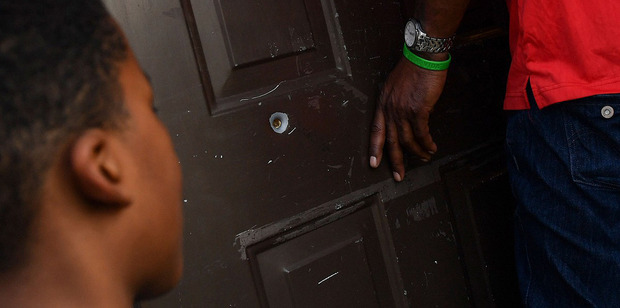 'We want everybody to live'
"Homicide victim," read each of the three police reward fliers with photos of three men, including Andrew.
They were stacked atop a sign-in table in Tyshaun's school the evening after his dad's death.
Dozens of parents, many with children, had passed by as they headed inside the cafeteria, converted into an emergency meeting room to discuss the surge in violence. Along Wheeler Road, which ran between Eagle Academy and Tyshaun's home, six people had been shot in seven days.
Now, after nearly two hours of discussion, a 6-year-old with braids and a bright-pink backpack approached the microphone.
Taylor Amoah was a grade behind Tyshaun and didn't know him, but she cared about what had happened to her schoolmate's family; what was happening to all of their families.
"Everybody's got to live," the first-grader said, her voice soft but tone purposeful. "They won't be able to live. That's not fair."
Taylor still remembered the moment when gunfire erupted as she walked near the Big Chair, an Anacostia landmark, and her mother snatched her up and ran.
"People always shooting around this neighbourhood," Taylor said. "We want everybody to live."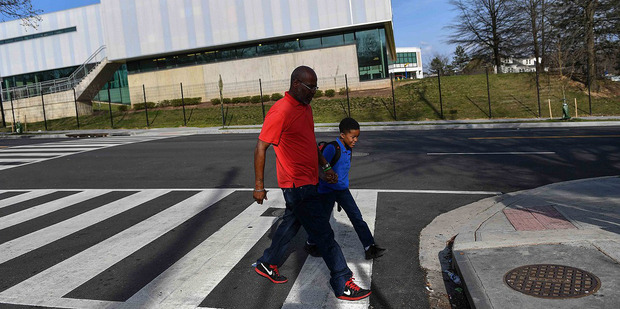 Behind her sat Tyshaun's grandma, Jessica Jackson, who believed that her son, with no criminal record, was ambushed in his car simply because of who he knew. Police were investigating the case but had told her they didn't know who killed him.
That night, the acting chief, city officials and community leaders had already delivered the same message they'd delivered at countless other meetings: Detectives needed help.
Petty beefs, not money or drugs, were driving most of the carnage. The violence would lead to more trauma, and the trauma would lead to more violence.
On a nearby wall was a display illustrating that trauma: A question "What makes you sad in your neighbourhood?" surrounded by 16 pictures children at the school had drawn in response.
Growing up with gunfire
"Bang, bang," an 8-year-old printed next to a man firing three bullets toward another man shouting "NO!"
"Bang, bang. Bang, bang. Bang, bang," a second 8-year-old wrote next to three people shooting at three other people down the street from a police car.
"Bang, bang, bang," a 6-year-old scrawled next to two stick figures, smeared in red marker, lying near a set of gravestones inscribed with "RIP."
The images, Eagle's staff knew, hadn't come from TV shows or video games. Almost all of their 700 students, who range from 3 to 9 years old, had witnessed violence or its aftermath.
There were the half-dozen who had needed counselling after passing a body near their bus stop.
There was the third-grader who sobbed in class the day after a cousin was shot outside his front door. There was the kindergartner who told teachers how sad he was after his father's killing on Halloween night.
Then there were the boys who hit girls, because that was what they saw at home, and the girls who got hit but said nothing, because that, too, was what they saw at home.
Eagle's founders had opened the pre-kindergarten through third-grade public charter in 2012 because of the struggles in Congress Heights, not in spite of them.
They knew what the growing body of research showed: Chronic exposure to violence could disrupt a child's brain development and inflict profound mental and emotional damage. At Eagle, a place where so many of its students live in poverty that everyone gets three free meals a day, the staff doesn't come to work just to teach lessons from books.
One day earlier this school year, Dawne Wilson's pre-kindergarten class of 4- and 5-year-olds was on the playground when she heard gunshots from just beyond Eagle's eight-foot-high black steel fence.
"Let's play a game. Everybody get down," Wilson calmly told them, aware of how important it was that she disguise her fear.
"Being in the middle of a war zone is crazy," said Wilson, an educator for 29 years. "Some of these children have been through more in their young lives than I've been through in my adult life."
At first, Tyshaun struggled to accept what he'd lost. He imagined creating a potion that would make his dad come back to life.
He obsessed over building a time machine, traveling back and whispering in his father's ear before he got into the car that morning: "Don't go nowhere, dad."
Then, one after another, the questions began to tumble out.
"Did my daddy do something to deserve this?" He asked his mum.
"Where was he shot at?"
"Where do guns come from?"
"Did they catch the person?"
"Is the person going to try to come and get me?"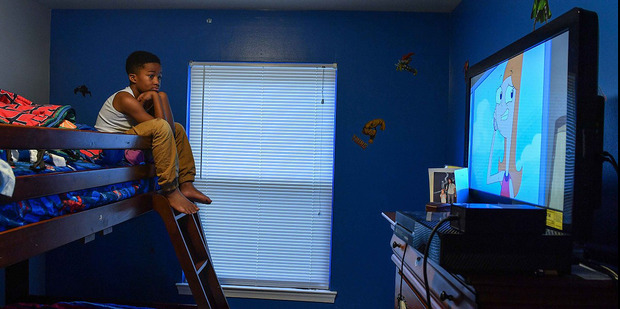 'Killed y'all'
Neatly laid out atop Tyshaun's Marvel superheroes bed sheet were his clothes for the funeral.
He'd seen a photo from Andrew's eighth-grade prom and decided he wanted to look just like that at the service.
So his mom had gone to a Kids for Less, and when she brought the outfit home, he arranged it on his lower bunk bed and insisted no one touch it. For three days, no one had.
He slipped on his black shirt and buttoned it up. Then came his silver vest, black pants, black socks and black size 3½ shoes. He snapped on a silver clip-on tie and tucked a matching handkerchief in his vest pocket.
Tyshaun looked down, contemplating why he had to wear what he was wearing.
"Whoever invented guns needs to stop," he said.
His dad's death had begun to make him angry, particularly because it remained unsolved and the gunman remained free.
"Police only stay for one week," he'd told his mum. "They never find out who did it."
Continued below.