People, power and politics
Save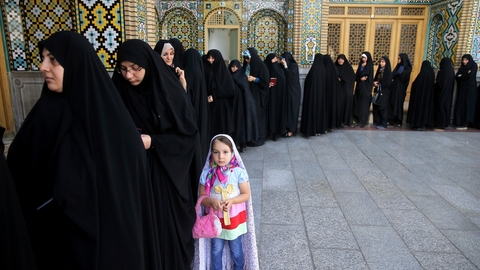 As Iranians vote for their president,Jon Gambrellexplains the nation's power structures.
By Jon Gambrell
Iranians voted overnight for the next president of the Islamic Republic. Early results are expected this evening.
And if no candidate gets over 50 per cent, there will be a runoff next week.
But how does the elected leader fit into the country's clerically managed government that approves candidates ultimately overseen by its supreme leader? Here's a look:
The supreme leader's power
At the heart of Iran's complex power-sharing government created after its 1979 Islamic Revolution is the supreme leader, a position now held by Ayatollah Ali Khamenei. The supreme leader also serves as the country's commander in chief over its military and the powerful Revolutionary Guard, a paramilitary force involved in the war in Syria and the battle against Isis (Islamic State) militants in Iraq that also has vast economic holdings across Iran. An 88-member elected clerical panel called the Assembly of Experts appoints the supreme leader and can remove one as well, though that's never happened.
The president's powers
Iranian presidents serve four-year terms. Iran's president is subordinate to the supreme leader but still powerful with considerable influence over both domestic policy and foreign affairs. In Rouhani's case, his Administration negotiated the 2015 nuclear deal with world powers, which saw Iran limit its enrichment of uranium in exchange for the lifting of economic sanctions. That accord was done with Khamenei's blessing.
Narrowing the field of candidates
An initial field of more than 1600 hopefuls registered to run in the election. Iran's Guardian Council, a 12-member panel half selected by the supreme leader and half nominated by the judiciary and approved by Parliament, vetted the candidates and narrowed the field to six, including Rouhani. The council has never allowed a woman to run for president and routinely rejects candidates calling for dramatic reform, stifling change while ensuring the continuation of Iran's Shia Islamic governance. Of the six candidates approved, two have since dropped out.
Rouhani's campaign
Rouhani, a cleric, says his moderate Administration needs to continue its work to implement the nuclear deal. In campaign stops and debates, he's struck an increasingly more-forceful line against the Revolutionary Guard and hardliners for ballistic missile launches and arbitrary arrests, something he largely avoided doing so far in his time in office. Rouhani was the favourite of analysts as every Iranian president since Khamenei himself took the presidency in 1981 has won re-election. However, Iran's sluggish economy and poverty remain the top issues for average Iranians who have yet to see the benefits of the atomic accord.
Continued below.